ULTIMATE
2FA Captive Portal Solution
---
Introducing the Ultimate 2FA Captive Portal Solution for Fortinet Firewalls: A Comprehensive Approach to Network Security
In an era where cybersecurity risks continue evolving at an unprecedented pace, securing your IT infrastructure is paramount. As professional content writers with over five years of experience, we understand your challenges. We proudly present a groundbreaking solution to enhance your network security: our cutting-edge 2FA (Two-Factor Authentication) captive portal system for Fortinet Firewalls.
Key Features:
Seamless integration of 2FA support for devices without native compatibility
Effortless bypass of ISP restrictions and hotel VPN blocks
Support for local users, LDAP connectivity, Active Directory, and Google LDAP
Granular access control with customizable group settings
Built-in security measures to mitigate bot and brute force attacks
Fortify Your Network with Two-Factor Authentication
Our advanced 2FA solution enables you to incorporate an additional layer of security to your Fortinet Firewall, regardless of whether your devices natively support it. By deploying 2FA, you can effectively defend your network against zero-day vulnerabilities and considerably diminish the likelihood of unauthorized access.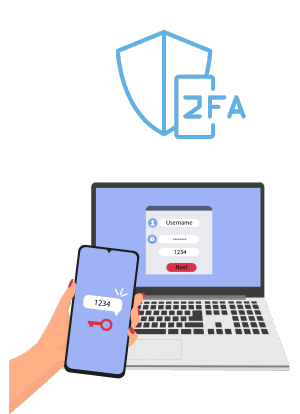 Circumvent ISP and Hotel VPN Limitations with Ease
We recognize the inconvenience and productivity loss associated with VPN blocks imposed by ISPs and hotels. Our service resolves these issues by utilizing the standard HTTPS port, accessible via IPv4 and IPv6 networks, without redirection. This guarantees that your end users maintain uninterrupted network access, irrespective of location.
Real-Time Access Control and Sophisticated User Management
With our hosted service, you can provide end users with a 2FA authentication login URL that incorporates their source IP into your Fortinet Firewall, allowing them access. You retain complete control over access expiration, and our software will systematically remove the IP upon expiration. Our solution harnesses Fortinet's External Connectors feature to manage IP addresses efficiently, delivering real-time access to your systems without compromising security.
Enhanced Security and Flexible User Management
Our system supports local users and LDAP connectivity compatible with Active Directory and Google LDAP. You can export users from LDAP to a local user database for increased security. Groups can be linked to distinct Fortinet External Connectors, facilitating superior access control, and expiration settings range from 1 to 30 days. Furthermore, you can activate 2FA for specific groups, with end users receiving a secure email or SMS PIN code for authentication.
Robust Security Infrastructure
Our platform is engineered with security at its core. We allocate a dedicated virtual server for each customer, ensuring traffic isolation and preserving privacy. Your virtual server is on our private, isolated VLAN behind a firewall, with only the HTTPS port open to the public. We offer options to restrict access, including geo-blocking further, and secure your site with a 4096-bit SSL certificate, with the option to utilize your domain name.
Tailored Solutions to Meet Your Unique Requirements
We are more than willing to assist if you need a specialized feature or modification. As the developers of this service, we possess the expertise to adapt our solution to meet your specific demands.
SECURE YOUR NETWORK TODAY_
Don't wait for a security breach to take action – fortify your network with our advanced 2FA captive portal solution for Fortinet Firewalls. Get in touch with us today to learn more about how we can help protect your IT infrastructure and ensure the security of your business.
Contact our dedicated team at  (844) 492 2235 or email at sales@xaccel.net to learn more and take the first step towards Ultimate 2FA Captive Portal Solution.